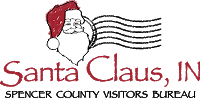 Phillip Koch is the President of Ho-Ho-Holdings LLC, based in Santa Claus, Indiana and was recently arrested for being under the influence of Methamphetamine and other substances.

Local police say he Koch rear-ended a stopped car at a stop light.

Last month the Santa Claus business owner was charged with domestic battery.

Needless to say that Koch will be receiving nothing but coal for Christmas this year.