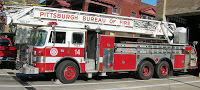 A suspended Pittsburgh fireman will be facing criminal charges including theft once he exits his currrent drug rehabilitation program. Suspended firefighter Vincent Manzanella repeatedly called in false alarms from local pay phones in order to empty out a city firehouse located at Penn Avenue and East Liberty so he could pillage while the other firemen were out on the false alarm. Manzanella used a city pass code to enter the firehouse to steal money. Manzanella is undergoing drug treatment for heroin addiction and was receiving workers compensation. Public Safety Director Michael Huss would like to begin a drug-testing program for all Pittsburgh firefighters and is a discussion that needs to take place with union officials.
When it comes to quality drug testing solutions, employers, contractors, union officers, hiring managers and risk mitigation professionals should solely rely on a professional drug testing firm like
Mobile Medical Corporation
(MMC). Mobile Medical Corporation (MMC) can help you with all of your substance abuse testing and Occupational Healthcare needs. MMC works closely with all clients to establish focused policies and testing procedures that comply with both the Department of Transportation (DOT) and Non-Federal testing programs.
Call our team of substance abuse testing professionals today for a free program review!
888-662-8358