On-site health clinics are an excellent option for construction projects (OCIP/CCIP) to provide their workforce with quality medical services. On-site medical services manage job site injuries, which protects your bottom line and helps keep the workforce healthy and productive. One of the greatest benefits of on-site medical clinics is that they reduce risk and maximize healthcare on a job site. With ongoing hiring challenges affecting industry verticals across the nation,  offering expanded benefits that attract employees such as mental health and wellness initiatives, entices employees to join your team versus the competitor. Having an on-site medical clinic also encourages workers to adapt and maintain healthy behaviors which helps protect your bottom line. 
What is an On-site Medical Clinic?
An on-site medical clinic is an additional service for valued workers and trade partners that provides an extra level of safety and health services such as first-aid and follow-up treatment for work and non-work-related injuries and illnesses. 
Clinics can be customized to fit each job site, but each Mobile Medical Corporation clinic includes the following at an hourly rate:
Clinical Staff with Language Interpretation Services  (250+ languages)
Medical Director
On-site Management Team (corporate support)
Customized Wellness & Mental Health Initiatives
Electronic Medical Records and Reporting
Inventory – Medical / Administrative supplies and equipment
Cybersecurity Safeguards
Professional Liability Insurance
Benefits of an On-Site Clinic
The main benefit of these clinics is reduced risk and increased health — they're located right on the job site workers can conveniently visit for their medical needs. On-site clinics have the benefit of reducing employer medical costs by providing easy access to medical services. These clinics reduce the need for emergency room visits should a non-emergency injury occur on the job.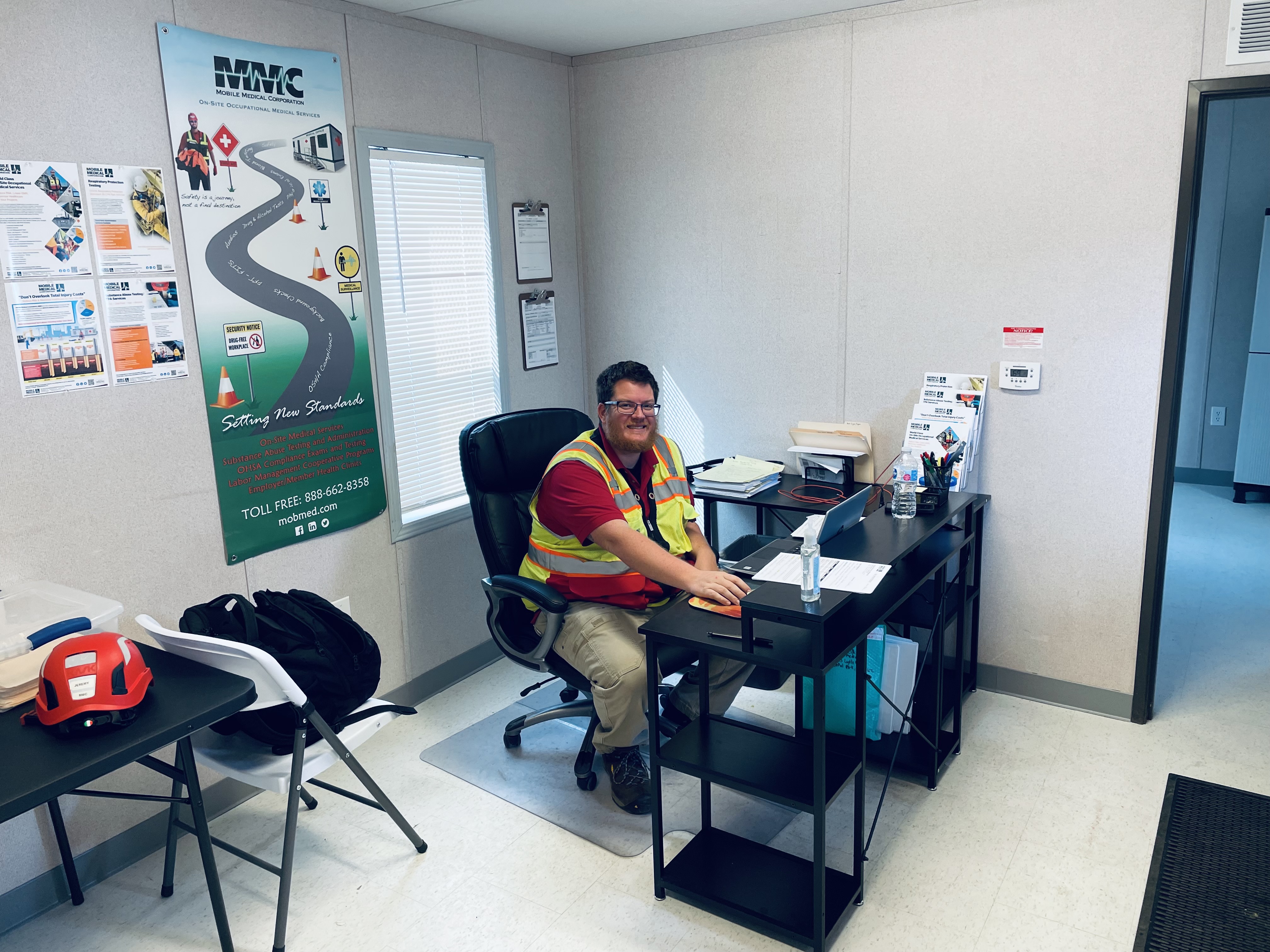 Primary benefits include: 
Minimizing  OSHA Recordables
 Reduce Lost Work Time  
Case Management Provided By Medical Professionals 
Allows Safety Professionals To Focus On Prevention 
 Eliminates Administrative Tasks  
Improves Turnaround Times Of Claims
 Minimizes Operational Disturbances 
Pre-Employment Testing
Additional benefits include:
Reduced Insurance Rates 
Employment Incentive
Reduced Absenteeism
Increased Productivity
Monitor Jobsite Health 
Improved Employer Workforce Relations
Build a Customized On-Site Health Clinic at Your Workplace
Making the choice to provide on-site clinics should be the first step an employer takes. Consecutive actions include determining what services to have available at clinics, how an employer wants these occupational health services to be available and choosing what type of provider will be the lead professional at the job site. 
Do you want to have a registered nurse or paramedic providing care at your facility? Will additional wellness services benefit your team? What type of large-scale testing or vaccination do you want to be available at your on-site clinic? These are all questions you should answer when making an informed decision about on-site clinics. 
Incorporating an on-site clinic into your project is a cost-effective method to prevent injuries, avoid worker's compensation claims, and lower OSHA recordable incidents. Mobile Medical's clinics are designed to match your requirements and are staffed with experienced medical clinicians who understand the occupational medical issues of building, industrial, and other safety-sensitive sectors.
On-site medical clinics protect your company and bottom line by keeping your staff healthy and productive. Through decades in business, we have acquired a comprehensive understanding of various industries and their occupational hazards. Our crew is able to offer proactive as well as responsive care at a fraction of the cost of outsourced preventative treatment for employees. To get started taking advantage of the benefits of on-site health clinics and providing care and wellness to your team, contact us today!