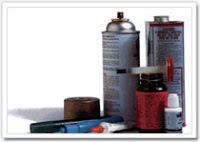 Inhalants are a diverse group of volatile substances whose chemical vapors can be inhaled to produce psychoactive (mind-altering) effects. While other abused substances can be inhaled, the term "inhalants" is used to describe substances that are rarely, if ever, taken by any other route of administration. A variety of products common in the home and workplace contain substances that can be inhaled to get high; however, people do not typically think of these products (e.g., spray paints, glues, and cleaning fluids) as drugs because they were never intended to induce intoxicating effects.

Inhalant Types
Volatile solvents—liquids that vaporize at room temperature

Industrial or household products, including paint thinners or removers, degreasers, dry-cleaning fluids, gasoline, and lighter fluid
Art or office supply solvents, including correction fluids, felt-tip marker fluid, electronic contact cleaners, and glue

Aerosols—sprays that contain propellants and solvents

Household aerosol propellants in items such as spray paints, hair or deodorant sprays, fabric protector sprays, aerosol computer cleaning products, and vegetable oil sprays

Gases—found in household or commercial products and used as medical anesthetics

Household or commercial products, including butane lighters and propane tanks, whipped cream aerosols or dispensers (whippets), and refrigerant gases
Medical anesthetics, such as ether, chloroform, halothane, and nitrous oxide ("laughing gas")

Nitrites—a special class of inhalants that are used primarily as sexual enhancers

Organic nitrites are volatiles that include cyclohexyl, butyl, and amyl nitrites, commonly known as "poppers." Amyl nitrite is still used in certain diagnostic medical procedures. When marketed for illicit use, organic nitrites are often sold in small brown bottles labeled as "video head cleaner," "room odorizer," "leather cleaner," or "liquid aroma."


The effects of inhalants are similar to those of alcohol, including slurred speech, lack of coordination, euphoria, and dizziness. Inhalant abusers may also experience lightheadedness, hallucinations, and delusions. With repeated inhalations, many users feel less inhibited and less in control. Some may feel drowsy for several hours and experience a lingering headache. Chemicals found in different types of inhaled products may produce a variety of additional effects, such as confusion, nausea, or vomiting.
* Source: National Institute on Drug Abuse